Best Places to Have Sex with Your Fuck Friend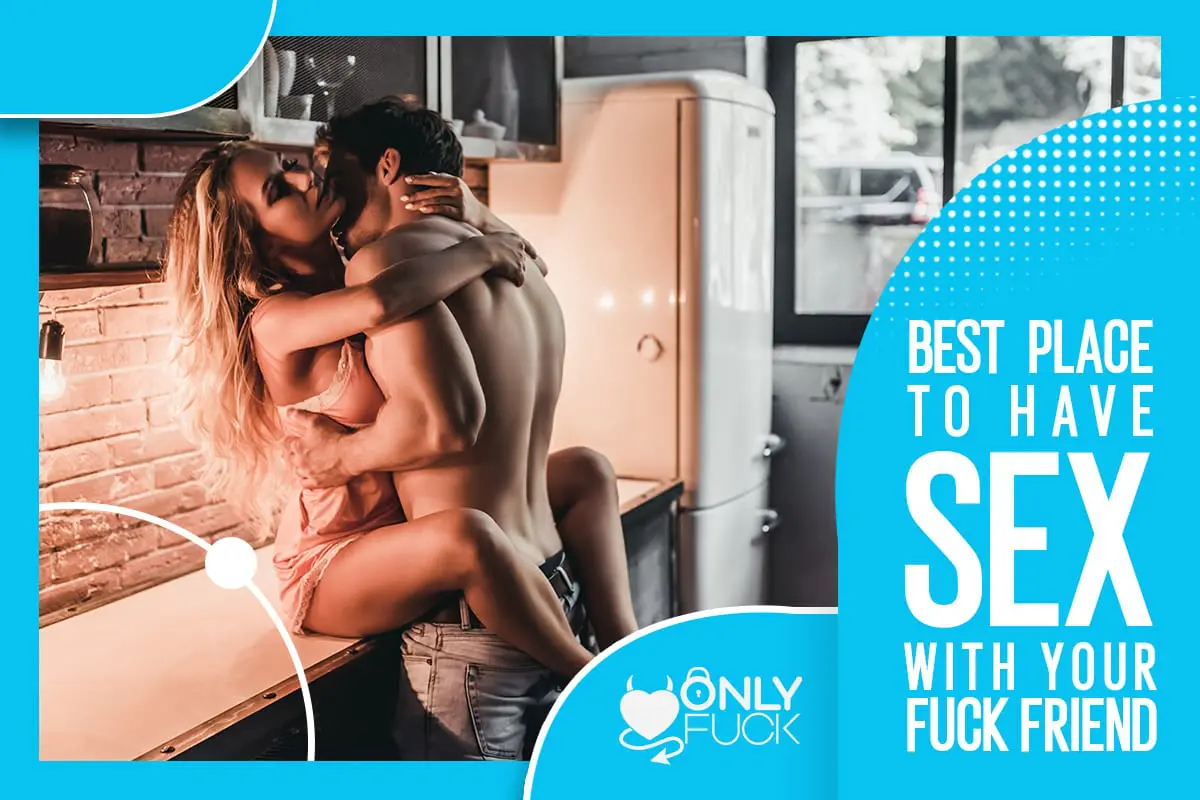 When you have a fuck friend, the world is full of sexy opportunities. Say goodbye to the days when sex was only for the bedroom. With a fuck friend, you can explore a huge variety of places to fuck. If you're still on a mission to find that perfect fuck buddy, check out my article on how to find a friend with benefits. Let's dive into the best places to have sex with your fuck buddy.
The kitchen counter
When you think of crazy places to have sex, the reality is, you don't have to go far. The best places to get it on are right in your house. I don't know who made it a rule to only have sex in your bed, but it's time to let that one go. There's nothing sexier than hoisting your fuck buddy up onto the counter and going to town. And when you get the post-sex munchies, the fridge is right there!
The shower
You're naked, you're horny, and you're in the shower– why not invite your fuck buddy? The shower is a great place to have sex with your casual hookup. It's literally hot and steamy, so why not take advantage of that sexy environment. Just remember not to slip. 
Up against the wall
Using the wall to brace yourself can be pretty damn hot. If you two are up for it, you can also lift your fuck buddy and use the wall to stabilize yourself. Standing positions are sadly neglected, but the wall makes it much easier to achieve. 
On the couch
That big fluffy couch is good for more than just watching Monday night football. There's something seriously erotic about having sex in the living room. It gives you a taste for exhibitionism without risking being caught by anyone. Plus, the shape of the couch gives you the opportunity to try a number of unique positions. Give it a try– you won't be disappointed. 
The hood of your car
If you're a car lover this one is a double whammy. Live out your wildest fantasies by getting it in on the hood of your car. Now, I don't recommend anything too crazy assuming you want to avoid denting the car. And you might want to take a trip to the carwash afterward. Maybe I should add "drive-through car wash" to this list?
In your backyard
If you want a taste of public sex without the risk, get it on in your back yard. Sure, there's a chance your neighbors will catch a glimpse, but that's part of the fun isn't it? Ideally, you have a proper fence or at least a few well-placed bushes around your yard.
The top floor of a hotel
Imagine this: you're on the top floor of a sky-high hotel building. You and your fuckbuddy take advantage of that amazing view by fucking up against the window. You get a view of the city and the people below might see a little something too. Wild scenarios like this are exactly why you should have a fuck buddy. Read my list of reasons to have a fuck buddy if you need convincing. 
On the washing machine
Put that bad boy on "heavy load" and use it to your advantage. Wait for the spin cycle to reach its peak and get it on with your fuck buddy. It's like a giant sex toy built right into your house. Might as well have some fun while you do the laundry. 
In a dressing room
This one is for those of you with an adventurous streak. If you can manage to sneak into a dressing room without being too obvious, it can be a great place to have public sex while maintaining some privacy. 
On a hike
There is nothing quite like having sex with your fuckbuddy out in nature. The trees, the birdsong, the fresh air– it all adds an exciting element that you won't find in the bedroom. Just avoid the poison ivy and you're good to go. 
On your old college campus
Getting naughty on your old college campus is just begging for some sexy roleplay. Maybe it's the cheerleader and the football player, or student and professor. It's your fantasy and nothing is off-limits. Just don't get caught by campus security. 
In an airplane
Is there anything more infamous than the mile high club? Joining this exclusive club takes some balls– no pun intended. We all know how small those airplane bathrooms are, so think of it as a sexy challenge. Are you up for it?
In front of a mirror
If you've never fucked in front of a mirror, you're missing out. It's kind of like making a sex tape, but you're watching in real-time. You get the thrill of watching yourself and your fuck friend do all kinds of raunchy activities. I guarantee you'll be back for more. 
At the beach
If you and your fuck friend have plans to go to the beach, you might as well fit in some sneaky beach sex. You and your fuck buddy will already be in your skimpiest attire so it won't be hard to go the extra mile. Just bring an extra-large beach towel that's big enough for the both of you. 
At a dinner party
Sneak away when no one is noticing for a bathroom quickie. There's nothing more thrilling than having naughty bathroom sex at an event. Here's a pro tip: make sure you're wearing something that you don't need to take off all the way. Think dresses and skirts. Just make sure to keep the noise to a minimum! 
In an elevator
This may be the riskiest and hottest location on the list. You'll have to be prepared for a quickie, because who knows when those doors might open next!
Final Thoughts
You and your fuck buddy can't keep your hands off of each other– and why should you?! With enough creativity, you can have sex with your fuck friend in just about any location. If you still need a little help in the sex department, read my article for tips on how to fuck better.