9 Tips For Sexting Your Fuck Buddy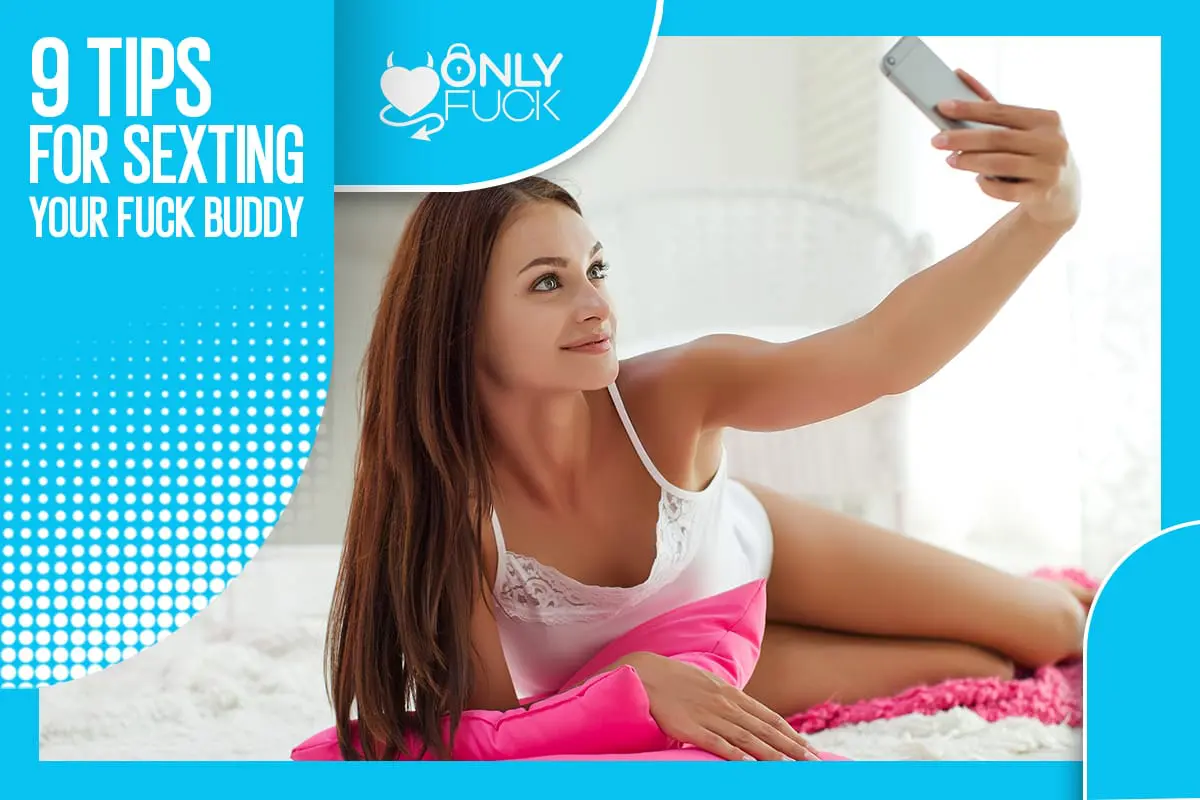 The thing with fuck buddies is that you usually just fuck 'em and crack on with your life. It's no-strings-attached sex. You're free to fuck without any of the emotional baggage that comes from a full-blown relationship.
That said, a fuck buddy doesn't have to be just someone you only speak to when you fuck.
See, as anyone will tell you, sex is ALWAYS better when you're able to build the anticipation. And you can do exactly this with a fuck buddy via sexting.
In this article, I'm going to share with you 9 tips for sexting your fuck buddy so that you literally cannot wait to rip their clothes off when you see them.
Tell Them You Want Them … NOW
Let's say they're in the office, at work. You know you can't have sex with them right now.
So what are you going to do?
You're going to be a bit cheeky by sending them a text that says: "I want you right now."
By doing this, you're building their desire so that they're bursting to have sex with you.
This is what's known as "sexual tension." And when you send your fuck buddy a text like this when they're far away, the sexual tension will reach boiling point. It will make them so horny for you that the next time the two of you fuck, it won't be anything other than amazing.
Related: How to go from fuck buddy to relationship 
Role Play
Role play is a lot of fun, and it needn't be reserved for lovers.
How does it work?
You start by sexting them with a sexy scenario. Maybe you're in a car together. There's a storm, your car breaks down and you seek refuge in an empty barn. What happens next?
Together, you can create one hell of a steamy story.
Tell Them You Can Still Taste Them
Wanna make your fuck buddy all hot and bothered?
Remind them of the last time the two of you had sex by telling them that you can STILL taste them.
Nothing will get them as flustered as memories of the last time the two of you fucked. Moreover, this kind of text lets them know how much you enjoyed having sex with them, and increases their desire to want to have sex with you again as soon as possible.
Also, this kind of text creates pictures in their head – which is exactly what you want when you want them to desire you.
It's a sexy text that you can send at any time of the day.
Be Creative With Your Words
Yeah, we can all say we're "hot" and "aroused" and full of "desire."
But by playing around with words and using ones that you know will make them hornier than hell, you can have so much more fun.
Don't be afraid to switch words up. Instead of using "cock" all the time, try "dick," "member," "love pump," "prick," and so on.
Tell Them You Just Came … Whilst Thinking Of Them
If the two of you sometimes have phone sex, this kind of sext further lets them know that they've been on your mind whilst you were masturbating alone.
The great thing about this type of sext is that, while it lets them know that you've been thinking of them, it doesn't take you out of the fuck buddy zone and into the relationship zone.
I mean, it's not like you thought of them whilst you were daydreaming about wedding dresses or puppy dogs. Instead, you're thinking of them whilst you were touching yourself silly.
It's an arousing sext that makes them feel special in the right way.
Let Them Know You Want To Taste ALL Of Them
Fuck buddies are great for having sex with.
But you know what can be almost as great as having sex with them?
Getting them in the mood by letting them know exactly what you want to do to them.
See, a lot of people are under the impression that you shouldn't really text your fuck buddy because doing so negates the 'fuck buddy contract.'
But by letting them know with a sext that you basically want to taste ALL of them, you'll be making them wet with desire.
And I don't know about you, but I'd say this should be part of the fuck buddy contract.
"I Wanna Hear What You'll Do To Me …"
You won't always want to sext your fuck buddy with details about what you're planning to do to them the next time you fuck. Instead, you'll want to hear from them what they plan to do to YOU.
Why?
Because it encourages a bit of creative thinking on their part. In other words, it can help them come up with new ideas for the bedroom. Maybe they'll think so hard that they come up with the hottest thing ever.
Moreover, it gets them thinking about you, which again increases desire for both of you.
Send Them a Sexy Picture
A lot of people prefer to just send nudes whenever they send a naughty pic. But there's a LOT to be said for the art of the tease.
What do I mean by this?
Instead of just sending a straight-up explicit text of your sexual organ, why not tease them with a bit of skin? This helps to get them in the mood and they'll be begging for more.
Send Them a Sexy Voice Note
Voice notes can be used for many reasons.
When it comes to sexting your fuck buddy, you should send voice notes that entice them into bed with you.
Sending a sexy voice note isn't easy, but it's also not rocket science. Just talk dirty, tell them what you plan to do to them the next time you see them, and paint pictures in their head – for example, tell them you've just come out of the shower, and you're naked and dripping wet.
Conclusion
Sexting your fuck buddy isn't rocket science. Use the tips in this article to get them hot and bothered and dripping wet with desire so that you're having fun even when you're not with them.